Welcome to the Body Magnetic Resonance Research Group!
We are part of the Department of Diagnostic and Interventional Radiology at the Technical University of Munich and we are located in Klinikum rechts der Isar.
Our research focuses on the development of novel Magnetic Resonance Imaging (MRI) acquisition and reconstruction methods with an emphasis on the extraction of quantitative imaging biomarkers. The developed methods are being translated into clinical studies for improving the diagnosis, the therapy monitoring, and the understanding of disease pathophysiology in the diseases of the musculoskeletal system (e.g. osteoporosis, neuropathies, neuromuscular diseases), in metabolic dysfunction (e.g. obesity, diabetes, cachexia) and in body oncology.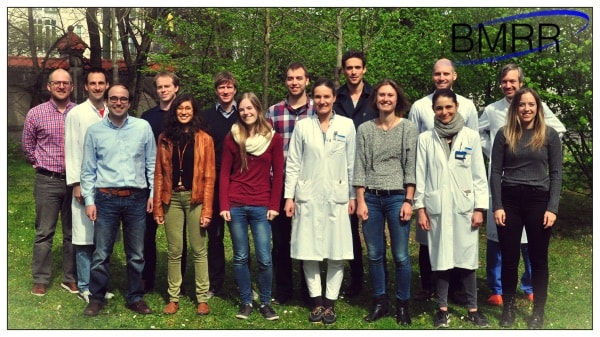 Latest news
"High Isotropic Resolution T2 Mapping of the Lumbosacral Plexus with T2-Prepared 3D Turbo Spin Echo" in Clinical Neuroradiology DOI: 10.1007/s00062-017-0658-9.

Stefan Ruschke wins the 2nd prize at the 2017 Young Investigator Award Competition of the European Society of Magnetic Resonance in Medicine and Biology (ESMRMB) with his abstract entitled "Measurement of vertebral bone marrow proton density fat fraction in children using quantitative water–fat MRI". Twitter link

Christoph Zoellner joins the Group as a PhD student with a research project focusing on development of MRI and MRS techniques of ectopic fat depots.

Michael Dieckmeyer's publication at Magnetic Resonance in Medicine entitled "ADC Quantification of the Vertebral Bone Marrow Water Component: Removing the Confounding Effect of Residual Fat" was featured as MRM Editor's pick for October 2017. The paper was discussed in an interview with MRM Highlights.

Dimitrios Karampinos is one of the Principal Investigators in the TUM Excellence Cluster Initiative "IMAGINE", which has been selected by the DFG for final evaluation. TUM Press Release

subscribe via RSS
Interested in joining our Group?
We are continuously actively looking for motivated physics, engineering, computer science and medical students to join our group and contribute to our interdisciplinary research. If you are interested please contact Dr. Karampinos directly.
Job postings
Our group has currently no job postings.