Welcome to the Body Magnetic Resonance Research Group!
We are part of the Department of Diagnostic and Interventional Radiology at the Technical University of Munich and we are located in Klinikum rechts der Isar.
Our research focuses on the development of novel Magnetic Resonance Imaging (MRI) acquisition and reconstruction methods with an emphasis on the extraction of quantitative imaging biomarkers. The developed methods are being translated into clinical studies for improving the diagnosis, the therapy monitoring, and the understanding of disease pathophysiology in the diseases of the musculoskeletal system (e.g. osteoporosis, neuropathies, neuromuscular diseases), in metabolic dysfunction (e.g. obesity, diabetes, cachexia) and in body oncology.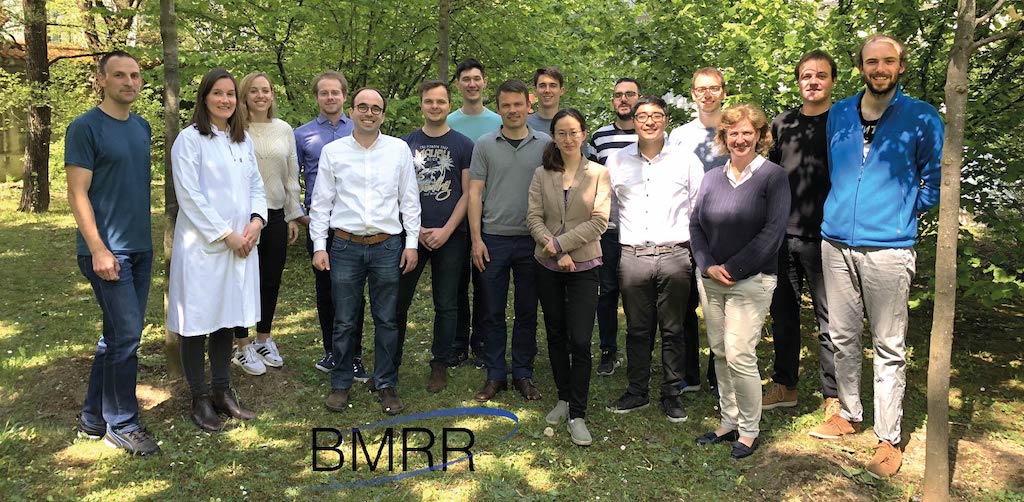 Latest news
It is is announced that Dimitrios Karampinos will be receiving the 2020 TUM Supervisory Award from the TUM Graduate Council.

"Estimating vertebral bone marrow fat unsaturation based on short‐TE STEAM MRS" in Magnetic Resonance in Medicine https://doi.org/10.1002/mrm.28453.

"Magnetic resonance imaging techniques for brown adipose tissue detection" in Frontiers in Endocrinology https://www.frontiersin.org/articles/10.3389/fendo.2020.00421/full.

Our group presents an educational talk and two abstracts from our group receive a Magna Cum Laude Merit award in the 2020 Annual Meeting of ISMRM. The Magna Cum Laude Merit Awards are given to trainees whose abstract scored in the top 15%. Dimitrios Karampinos gives an educational presentation on "Liver DWI: emerging solutions". Christoph Zöllner receives a Magna Cum laude Award for his abstract entitled "Correcting gradient chain-induced fat quantification errors in multi-echo SoS acquisition using the gradient impulse response function". Dominik Weidlich receives a Magna Cum laude Award for his abstract entitled "Comparison of adipocyte size measurements with histology and high b-value diffusion-weighted spectroscopy in human white adipose tissue at 3 T".

Dimitrios Karampinos receives the Supervisory Award from the TUM Medical Graduate Center thanks to the nomination from the BMRR Group.

Our publication "Measuring large lipid droplet sizes by probing restricted lipid diffusion effects with diffusion‐weighted MRS at 3T" was included in the list of the top downloaded Magnetic Resonance in Medicine articles from 2018 and 2019.

"Investigation of the relationship between MR-based supraclavicular fat fraction and thyroid hormones" in Obesity Facts DOI:10.1159/000507294

"Magnetic resonance neurography of the lumbosacral plexus at 3 Tesla – CSF-suppressed imaging with submillimeter resolution by a three-dimensional turbo spin echo sequence" in Magnetic Resonance Imaging DOI: 10.1016/j.mri.2020.06.009.
Interested in joining our Group?
We are continuously actively looking for motivated physics, engineering, computer science and medical students to join our group and contribute to our interdisciplinary research. If you are interested please contact Dr. Karampinos directly.
Job postings
Our group has currently the following openings: