Welcome to the Body Magnetic Resonance Research Group!
We are part of the Department of Diagnostic and Interventional Radiology at the Technical University of Munich and we are located in Klinikum rechts der Isar.
Our research focuses on the development of novel Magnetic Resonance Imaging (MRI) acquisition and reconstruction methods with an emphasis on the extraction of quantitative imaging biomarkers. The developed methods are being translated into clinical studies for improving the diagnosis, the therapy monitoring, and the understanding of disease pathophysiology in the diseases of the musculoskeletal system (e.g. osteoporosis, neuropathies, neuromuscular diseases), in metabolic dysfunction (e.g. obesity, diabetes, cachexia) and in body oncology.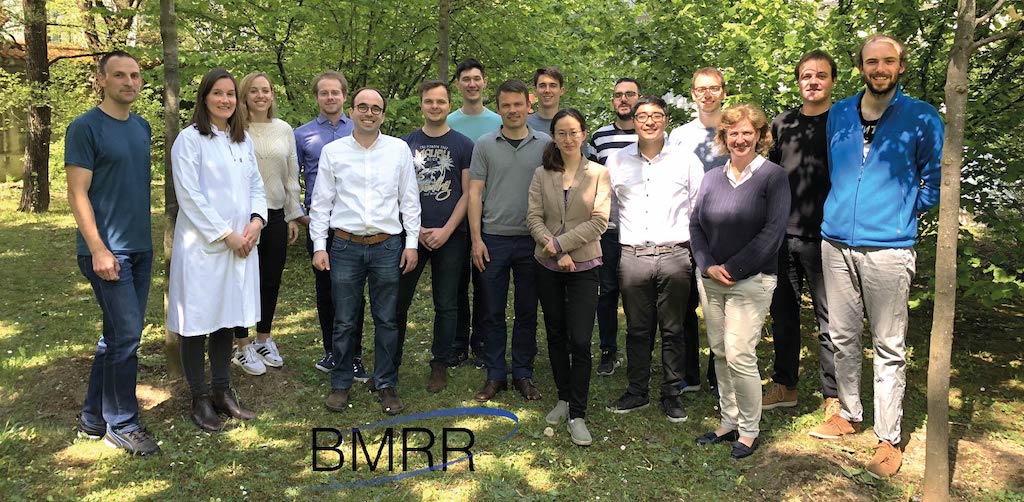 Latest news
Three of our junior researchers, Mingming Wu, Maximilian Diefenbach and Stefan Ruschke are selected to attend the DFG workshop on quantitative MRI.

Our Group presents one oral, one power-pitch and one invited presentation at the 5th Annual Meeting of the Bone Marrow Adiposity Society (BMAS) in Odense, Denmark.

Julio Oscano successfully defends his Master thesis entitled "Increasing the Acceleration Limits of Water–Fat MRI Using Compressed Sensing". He will be continuing his career as a PhD student at the Bioengineering Department of Stanford University.

Dimitrios Karampinos receives a European Research Council (ERC) Proof-of-Concept (PoC) Grant entitled "FatVirtualBiopsy: MRI toolkit for in vivo fat virtual biopsy" to explore the broader impact of our developed MR-based lipid droplet size measurement techniques in metabolic disorders!

Our Group had a strong presence at the 2019 ISMRM Workshop on MRI of Obesity and Metabolic Disorders in Singapore, inducing 2 invited talks, 4 oral and 3 power-pitch presentations. Daniela Franz, Dominik Weidlich and Christoph Zoellner receive trainee stipends for attending the meeting.

subscribe via RSS
Interested in joining our Group?
We are continuously actively looking for motivated physics, engineering, computer science and medical students to join our group and contribute to our interdisciplinary research. If you are interested please contact Dr. Karampinos directly.
Job postings
Our group has currently the following openings: